resideo leak protection services
Get Alerts. Get Peace of Mind.
A-Comfort Service is proud to partner with Resideo and their Wifi Water Leak & Freeze Detectors.
Resideo's WiFi Water Leak & Freeze Detector keens you connected and alarm to potentially costly war leaks and frozen pipes in your home. Whether you're home or away, you'll receive notifications on your smart phone so you can take action and help prevent water damage and costly repairs.
treating you like family since 1988
We Are Proud to Serve the North Hills of Pittsburgh
When you're in need of service, call our team to get help from experts in heating, cooling, and plumbing.
No job is too big or too small for our trusted technicians.
Licensed, Bonded & Insured
HELP PREVENT A SMALL LEAK FROM BECOMING A BIG PROBLEM.
Detection & Protect
The average water leak causes $7000 in damage.*
The Resideo WiFi Water Leak & Freeze Detector device can potentially reduce water damage risk by sending alerts directly to your smart phone. You will also receive alerts about temperature drops that could result in freezing pipes and temperature spikes which may indicate HVAC system fail. This device will help determine if there's too much or not enough humidity in your home and send you an alert if there's a problem. Additionally, the device has a 100 BA audible alarm, so you can hear it throughout your home.
Easy WIFI Setup
No extra hub or base station required. Simply install the device near a sump pump, water heater, washing machine, sink or pipe and follow the simple instructions to connect the device to your home WiFi using the Honeywell Home app.
Battery Operated
No wiring required makes it easy to install wherever it will be most effective and out of sight. Battery life up to 3 years without incident, depending on use.
Extended Reach
It includes a 5-ft. water sensing cable. Additional cables can be added for expanded coverage, up to 500 ft. You can cover your entire house without limits on the number of devices you add. For maximum coverage add a device to any room or area that has running water or water pipes.
Reusable
If your device alerts you to a water leak, you can easily reset it. Once your cable is completely dry, plug it back in and it's ready to use again.
*American Insurance Association.
Get in touch with us at (412) 500-9215 or (724) 542-8797 for all your residential or commercial plumbing needs.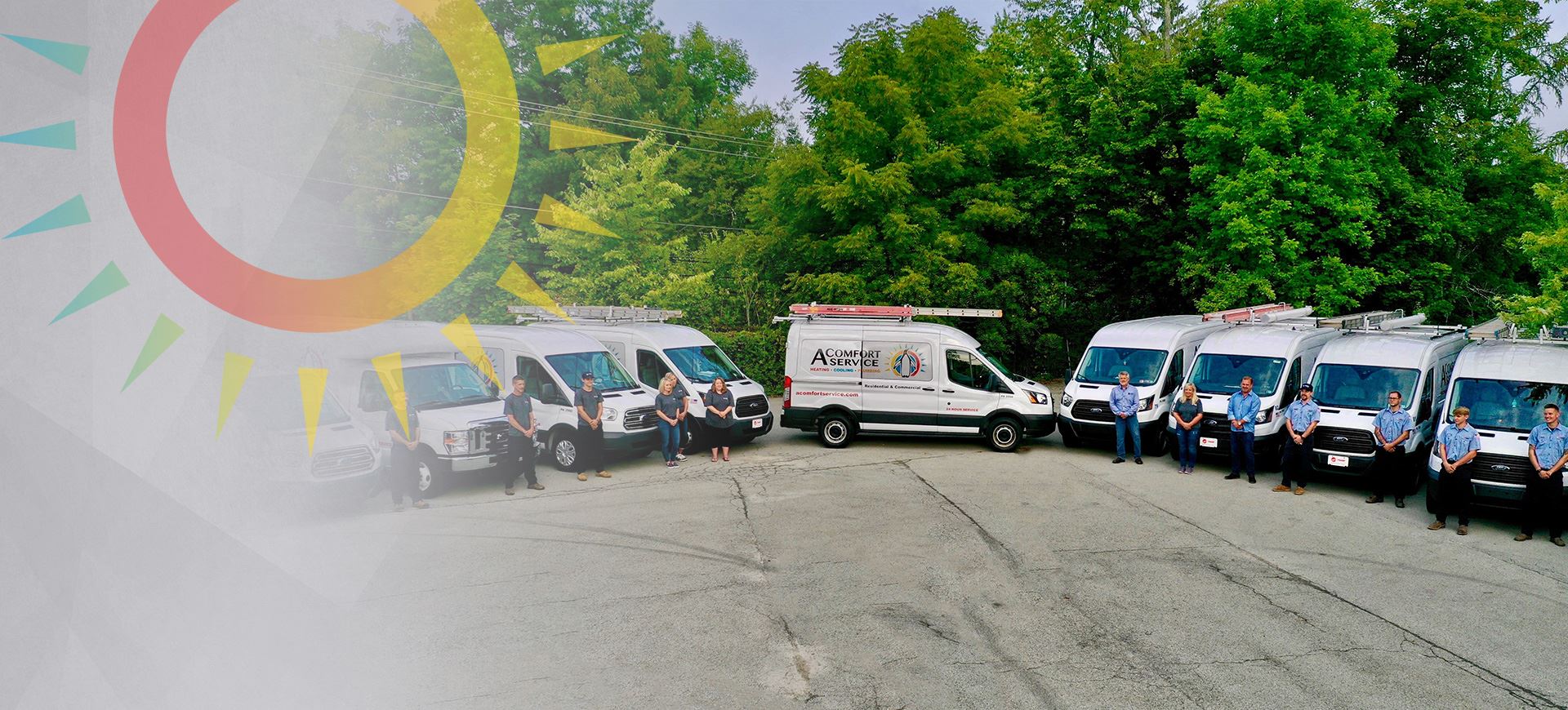 trusted by our community
Read Our Reviews
"We've had a regular technician on our last 3 service calls. He has always been on time, professional and informative. This company certainly gives us a peace of mind and is worth having!"

Kaitlyn K.

"The owner of the business even came out to check on things before our installation! I am so grateful that our friend recommended A Comfort Service."

Christine B.

"Every person I've interacted with at the company has amazing customer service and has gone above and beyond."

Emily E.

"I strongly recommend this company. Rich the technician is knowledgeable and honest. He checked my furnace and found the problem."

Lei G.

"The service people as well as the office staff are AMAZING! The kindest, knowledgeable, friendly, and honest people I have met in the industry."

Beth H.
Braukmann L5 WiFi Water Leak Shutoff Valve
Provide homeowners protection against potentially extensive water damage.
Technology is making homes safer, smarter, and more connected. And that now includes home water leak management. New from Reside, the Shutoff Valve upgrades your customer's system to a smart water solution. The device automatically shuts off the water flow in the event of a leak, protecting them from potentially expensive damage and household disruption.
Deliver reliable water solutions and differentiate yourself with Braukmann products that help homeowners with water leak management, establishing your business as an essential resource for whole home water solutions.
PRODUCT FEATURES
The Resideo App can be setup as a water leak detection control panel with notifications, customized alerts, and pre-set shutoff locations. The wireless functionality means customers can control their home's water from anywhere.
The Shutoff Valve shuts off the home's water supply when it detects water via the 5-ft sensor cable attached to the device. Extend the leak detection range up to 500-ft by adding additional Sensor Cables.
Easily pair the Shutoff Valve with any Resideo WiFi Water
Leak and Freeze Detectors for reliable water leak detection and an automatic shutoff response.
For over 100 years, Braukmann has built a reputation for providing a complete portfolio of reliable water solutions for contractors and homeowners.
•Be their pro
Customers can set alerts on the Resideo App to notify them of any leak or shutoff events and provide the support they need right away.