Gas Line Services in Pittsburgh
Replacing your gas line is a major project that should be performed by a professional. At A-Comfort Heating, Cooling & Plumbing, we have the knowledge, equipment, and expertise to ensure your gas line is installed correctly. Our technicians can also repair your gas line and provide other gas line services in Pittsburgh.
Gas Line Installation
If you are building a new home or replacing an old appliance, you will need a new gas line installed. Our technicians can help you choose the right materials and make sure your gas line is installed correctly. We can also install gas lines for new appliances you are installing in your home.
We can provide other gas services, including:
Gas leak detection
Gas line sizing
Gas line repair
Gas heating
If you are looking for a professional to install your gas line or repair your gas line, choose A-Comfort Heating, Cooling & Plumbing. We have years of experience installing and repairing gas lines in Pittsburgh, PA, and we stand by our work.
Call (412) 500-9215 or contact us online to book an appointment with our gas line experts today!
Signs You Need Gas Line Repair
Gas line repair is a critical safety concern for homeowners. Detecting signs of gas line issues early can prevent hazardous situations and potential disasters. Here are some key indicators that you need gas line repair:
1. Unusual Odors: Natural gas is odorless, but a distinct "rotten egg" smell is added for easy detection. If you detect this odor, it could indicate a gas leak.
2. Hissing Sounds:  A hissing sound near gas lines, appliances, or connections suggests a gas leak. The hissing is caused by the gas escaping from a damaged or loose component.
3. Spike in Gas Bills: A sudden increase in your gas bill without an apparent reason, like increased usage, could be due to a gas leak. Escaping gas leads to wastage and higher bills.
4. Dead Plants: If your indoor plants suddenly die without explanation, it could be due to a gas leak affecting the oxygen levels around them.
5. Health Issues: Gas leaks can cause symptoms like headaches, dizziness, nausea, and breathing difficulties. If these symptoms improve when you leave home, it might be due to a gas leak.
6. Whistling Sounds from Appliances: Unusual noises coming from your gas appliances, like a whistling sound, could indicate an issue with the gas line or the appliance itself.
7. Visible Damage: Physical damage to gas lines, connectors, or fittings, such as corrosion or dents, can lead to leaks. Inspect these components regularly.
8. Pilot Light Problems: If the pilot light on your gas appliances repeatedly goes out or has an irregular flame, it could be due to insufficient gas flow caused by a leak.
9. Soot or Discoloration: Black soot buildup around gas appliances or on walls could indicate incomplete combustion, often caused by improper gas flow.
10. Dizziness and Fatigue: If you or your family members experience unexplained dizziness, fatigue, or flu-like symptoms, it might be due to inhaling gas fumes.
If you notice any of these signs, it's crucial to take immediate action. Evacuate the premises, avoid using any electrical switches, open windows and doors to ventilate the area, and contact a licensed professional for gas line inspection and repair. Gas line issues should never be ignored due to the serious safety risks they pose.
treating you like family since 1988
We Are Proud to Serve the North Hills of Pittsburgh
When you're in need of service, call our team to get help from experts in heating, cooling, and plumbing.
No job is too big or too small for our trusted technicians.
Licensed, Bonded & Insured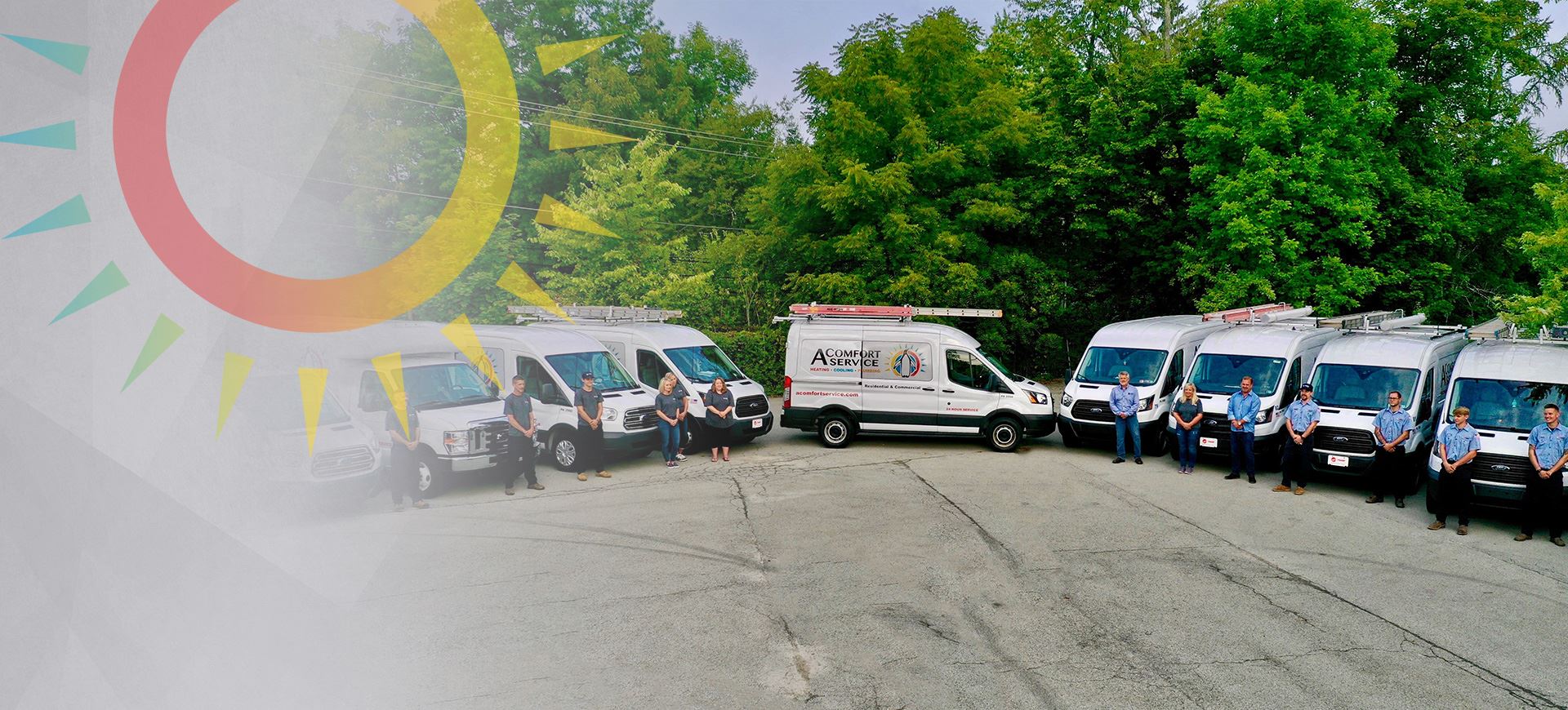 trusted by our community
Read Our Reviews
"We've had a regular technician on our last 3 service calls. He has always been on time, professional and informative. This company certainly gives us a peace of mind and is worth having!"

Kaitlyn K.

"The owner of the business even came out to check on things before our installation! I am so grateful that our friend recommended A Comfort Service."

Christine B.

"Every person I've interacted with at the company has amazing customer service and has gone above and beyond."

Emily E.

"I strongly recommend this company. Rich the technician is knowledgeable and honest. He checked my furnace and found the problem."

Lei G.

"The service people as well as the office staff are AMAZING! The kindest, knowledgeable, friendly, and honest people I have met in the industry."

Beth H.