Indoor Units From Mitsubishi
Zoned Comfort
Wall-mounted heating and air conditioning units independently manage the comfort of a single room and can maintain the precise temperature you set.
Improved Air Quality
Advanced filtration features deodorize and purify the air in your home, contributing to better health. You can breathe easy knowing that you invested in the ductless heating and cooling.
Remote Operation
You can monitor and adjust your wall unit air conditioner and heater with a remote control, or create programs and schedules from your smartphone or tablet when using a wireless interface.
Key Features
Mitsubishi Electric's wall unit air conditioners and heaters offer a full range of features specially designed for energy efficiency, performance and control over your personal comfort.
*Available on select models
treating you like family since 1988
We Are Proud to Serve the North Hills of Pittsburgh
When you're in need of service, call our team to get help from experts in heating, cooling, and plumbing.
No job is too big or too small for our trusted technicians.
Licensed, Bonded & Insured
Benefits of ductless systems
Precise Comfort Control
Return air sensors on every unit monitor room conditions and automatically adjust to maintain the temperature you choose. 3D i-see Sensor™ (available on select units) uses infrared technology to scan the room and adjust based on human heat signatures.
Multi-Layer Allergen Filtration
Washable 10-year filters with multi-stage allergen filtration remove particulates and contaminants from the air with continuous fan operation for better air circulation. The anti-allergen filter traps dust, allergens and other particles to improve indoor air quality.
Remote Control
From handheld remote controllers to smartphone apps, we have solutions that give you total control over your wall-mount air conditioner and heating systems. You'll never again have to worry about making sure your system is on the right setting and temperature.
Systems That Match Your Style
Our wall-mounted air conditioner and heating units have a sleek design that blends into your environment. These models feature an elegant flat front panel and are available in glossy black, matte silver or glossy white. They can be professionally painted or wrapped to complement your rooms.
Low Impact Installation
Wall-mounted air conditioning units are simple to install and can be placed subtly, high up on a wall. This saves space and prevents a large appliance from blocking your view of outside. Plus, if you want to conserve a little energy, you will be able to open your window for some fresh outside air. Once you select your indoor and outdoor units, installation by a Contractor is quick and easy. Through just a three-inch opening in the wall or ceiling, your contractor can connect the indoor and outdoor units with refrigerant lines and power and communication wiring.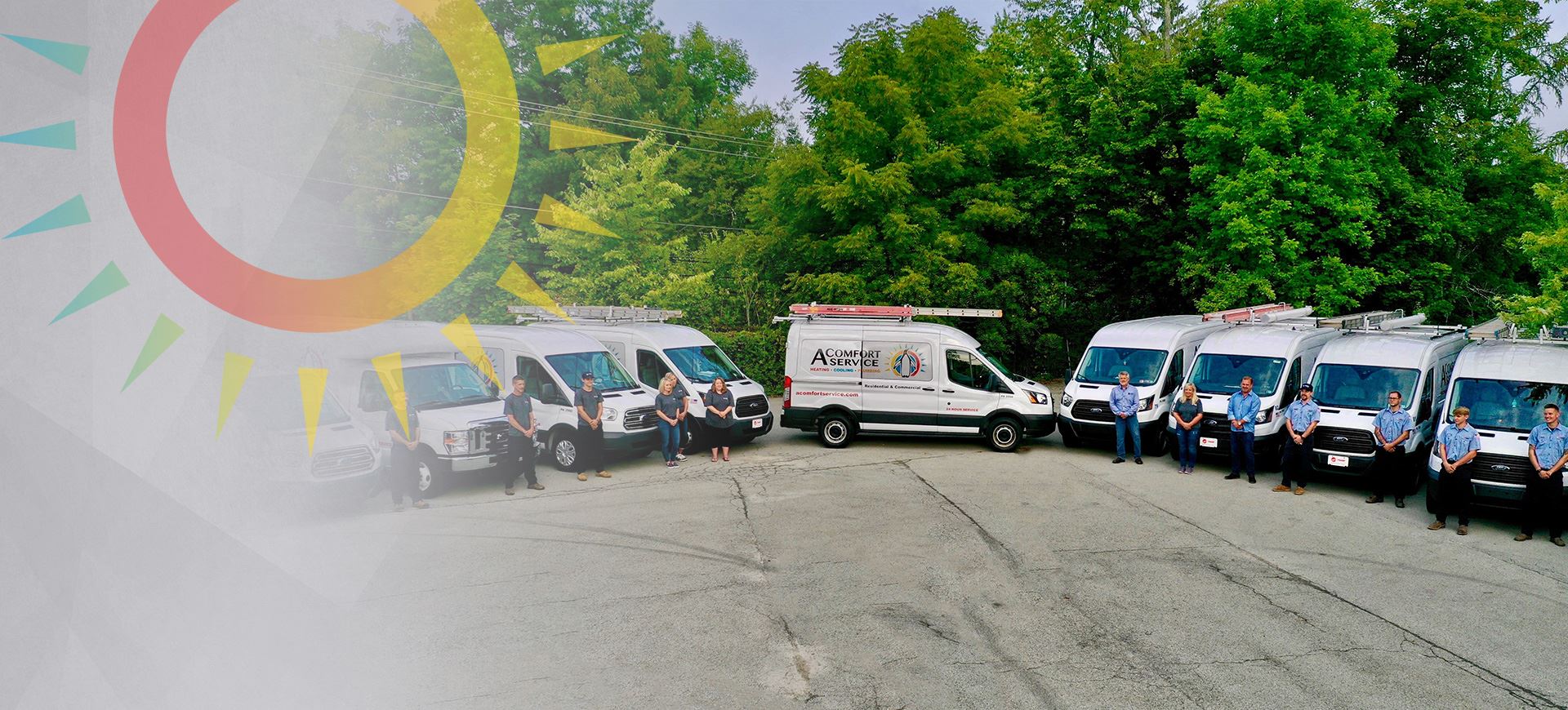 trusted by our community
Read Our Reviews
"We've had a regular technician on our last 3 service calls. He has always been on time, professional and informative. This company certainly gives us a peace of mind and is worth having!"

Kaitlyn K.

"The owner of the business even came out to check on things before our installation! I am so grateful that our friend recommended A Comfort Service."

Christine B.

"Every person I've interacted with at the company has amazing customer service and has gone above and beyond."

Emily E.

"I strongly recommend this company. Rich the technician is knowledgeable and honest. He checked my furnace and found the problem."

Lei G.

"The service people as well as the office staff are AMAZING! The kindest, knowledgeable, friendly, and honest people I have met in the industry."

Beth H.