Pittsburgh Plumbing Services
Serving Homes & Businesses in Southern Butler County & Northern Allegheny County
A-Comfort Service has more than 35 years of experience with residential and commercial plumbing in Pittsburgh, Southern Butler County, and Northern Allegheny County. We are a fully licensed and insured, family-owned business providing a one-stop shop for all your service needs for heating, air conditioning, water heaters, and plumbing in Pittsburgh, Butler County, and Northern Allegheny County.
If you need more information about any of our plumbing services, please call (412) 500-9215 or (724) 542-8797 today.
treating you like family since 1988
We Are Proud to Serve the North Hills of Pittsburgh
When you're in need of service, call our team to get help from experts in heating, cooling, and plumbing.
No job is too big or too small for our trusted technicians.
Licensed, Bonded & Insured
Residential & Commercial Plumbing
The plumbing system is essential to everyday life in homes and business operations in commercial properties. A problem with plumbing is extremely disruptive and can create an unhealthy environment, depending on the problem. Ensuring that your Pittsburgh plumbing system remains in good working order requires occasional maintenance and swift repairs when a problem arises.
Our plumbing services include:
Backflow tests
Drain cleaning
Dye tests
Energy savings agreements
Faucet and fixture installation and repair
Garbage disposal installation and repair
Gas lines
Hydro jetting
Sewer lines
Water lines
When something goes wrong with the plumbing system, it can leave you with an unusable drain or fixture, water damage, or mold growth. A problem with the sewer line or a gas line can create an unsanitary or even dangerous environment. When you notice anything out of the ordinary, it is important to call for repair service right away to prevent further damage and more expensive repairs.
Water Heater Installation & Repair
The water heater is among the most important parts of the plumbing system in most homes and many commercial buildings. Your water heater provides a reliable supply of hot water for all your needs. When something goes wrong with your water heater, it may need to be repaired or replaced. Usually, a water heater that isn't very old, corroded, or badly damaged can be repaired.
However, repair isn't always the right way to solve your problem in the long term. If your water heater is getting old, the tank is leaking or corroded, or the needed repair costs more than half the price of a new unit, you may be better off replacing it. A new water heater can provide dependable performance and reduce your energy costs.
There are many options for water heaters, including:
Electric water heaters
Gas water heaters
On-demand (tankless) water heaters
Indirect water heaters
When you are ready for a new water heater, your plumbing technician can walk you through the options for units that are the right size for your hot water demand. A professional technician will provide reliable service and precision water heater installation.
Call for Speedy Plumbing Service
At A-Comfort Service, we are here when you need help with your plumbing in Pittsburgh. We have technicians ready to respond to your call for same-day service and 24/7 emergency service to solve any problem with your plumbing system. Our personal customer service team and technicians work hard to provide superior service for all your residential or commercial plumbing needs.
Contact us today at (412) 500-9215 or (724) 542-8797 for quality plumbing services and a fast response.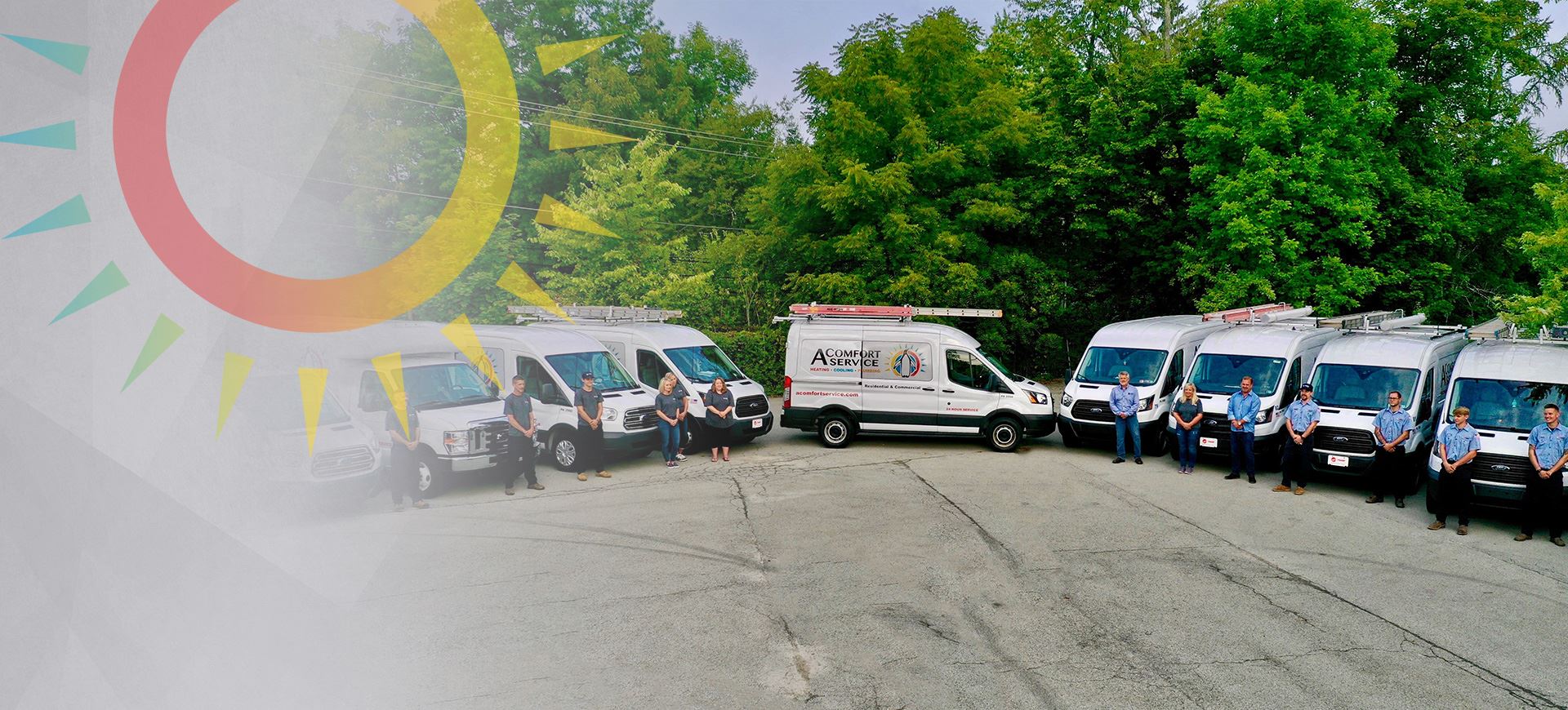 trusted by our community
Read Our Reviews
"We've had a regular technician on our last 3 service calls. He has always been on time, professional and informative. This company certainly gives us a peace of mind and is worth having!"

Kaitlyn K.

"The owner of the business even came out to check on things before our installation! I am so grateful that our friend recommended A Comfort Service."

Christine B.

"Every person I've interacted with at the company has amazing customer service and has gone above and beyond."

Emily E.

"I strongly recommend this company. Rich the technician is knowledgeable and honest. He checked my furnace and found the problem."

Lei G.

"The service people as well as the office staff are AMAZING! The kindest, knowledgeable, friendly, and honest people I have met in the industry."

Beth H.